Fikardos
---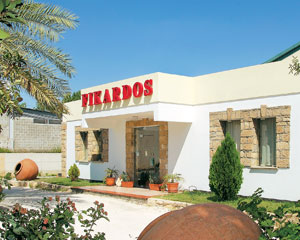 The history of the Fikardos winery, one of the biggest regional wineries on the island, is no different from the history of most similar wineries, for it got started fortuitously like most of the others. The owner, Theodoros Fikardos, had been a restaurateur for several years when, one day, he decided to produce by himself a wine which he could serve to his customers. Thus, in 1988 he embarked on what was to be a "fateful" venture: he produced a barrel of wine that was destined to be the fuse to an unexpected explosion – the creation of one of the best known and commercially successful wineries in Cyprus.
The building is situated within the industrial zone of Mesogi, one of the suburbs of Paphos. I asked him: "Is it not upsetting that your winery is in an exclusively industrial area, quite some distance from the vineyards and the wine-producing region." Without the slightest hesitation he stated that the time had come for the winery to move to the heart of the vineyard region. He expressed a clear preference for the Stroumbi and Polemi regions where, he explained, there are vast areas planted with imported varieties with multiple capabilities, such as Sιmillon, Chardonnay, or his favourite Mataro.
When asked why he makes so many different types of wine, when he could have concentrated more effectively on fewer, he said that if he had not experimented with all the varieties currently grown on the island he would not have been able to make the right decision in choosing, and he cited as an example the Riesling variety with which he experimented for some years, but which he finally rejected, for he was convinced that it had not adapted well to Cyprus conditions and, consequently, would not produce good quality wine.
Best Wine
---
Alkisti

 

Made exclusively from grapes of the Chardonnay variety, Alkisti is the best white wine that the winery produces. Highlighted yellow colour. Intense, distinct and pleasant exotic fruit aromas – mainly pineapple and mango. Quite aromatic, balanced mouth, with good fruit, lively acidity and satisfactory length aftertaste.

 

Rating: 
Recommended Wines
---
Amalthia

 

The addition of Xynisteri to Sιmillon imparts to this wine a darker yellow colour than that of a pure Xynisteri white. Good intensity but rather simplestructured aromas reminiscent of ripe yellow fruits and lemon. The participation of Sιmillon makes the mouth slightly more full-bodied than it would have been in a 100% Xynisteri.

 

Rating: 
Shiraz 2006

 

Dark red colour with average transparency; a nose of good intensity and satisfactory concentration, combining plum, black pepper and coffee aromas with oak barrel and abundant alcohol (14%); rather light mouth, with intense, disproportionate tannins that dominate the wine, giving it a rather harsh aftertaste.

 

Rating: 
Ravanti

 

When young (less than two years), Ravanti would be one more good choice available on the market of a wine for everyday meals. A fairly-priced red wine featuring good intensity colour as well as good intensity nose. Medium body in the mouth, discernible but not jarring acidity and rather dry tannins.

 

Rating: