Ayia Mavri
---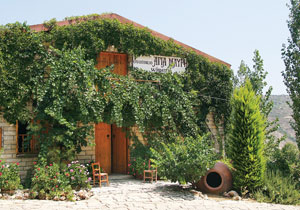 The Ayia Mavri winery, formerly known as Kilani Winery, was the first to be set up in the village of Kilani which now boasts four wineries. The story of Ayia Mavri is not very different from that of other wineries, for, like the others, its foundation was due to the love and passion of its founders, Mrs Yiannoula Ioannidou and her husband Ioannis, a doctor by vocation, who runs one of the wellknown clinics in Lemesos.
It all began when the couple went on a wine trip to Austria where they had the chance to have first-hand experience of local wine-production. Going round from house to house, they were impressed by the Austrian custom of hanging a sprig of pine on the door of each house where wine was produced, along with a piece of white or/and red fabric that indicated (to, mainly, European customers who visited the country to buy quality wine) whether the wine on sale was white or red.
Two years after their return from Austria, the winery of Yiannoula and Ioannis Ioannides came into being. Today, the winery turns out 10 labels of all sorts of wine. This wide range, however, does not allow winemakers to give undivided and focused attention to their wines.
Best Wine
---
Mosxatos 2006

 

I would say that Ayia Mavri is the island's sweet-wine winery, for its range is rich in dessert wines, and  Mosxatos 2006 is the top. Made from sun-dried Muscat of Alexandria grapes, it features a dark gold colour, a nose rich in explosive, captivating aromas of lychee, compote, quince jelly and dried fig. What fascinates in the mouth is the wine's exuberance and overall flavour, its apparent fattiness and its acidity that capably resists the rich sugar content. It is a simply superb wine!

 

Rating: 
Recommended Wines
---
Muscat

 

Highlighted yellow colour, a nose of intense and singular aromas reminiscent of lychee, citron and grated tangerine and bergamot rind making up an admittedly harmonious whole. A rich sweet mouth, rendered pleasantly fatty thanks to the wine's unfermented sugars which are balanced by the required acidity. 

 

Rating: 
Ayia Mavri white dry

 

A medium intensity nose with rather one-dimensional yellow fruit aromas, a light mouth with satisfactory fruit, discernible acidity and medium duration lemony aftertaste. It is a simple but well vinified Xynisteri that, like all wines from this grape variety, must be drunk within a year from production.

 

Rating: 
Ayia Mavri rosé

 

Attractive pomegranate colour. Vivid, though not absolutely clear, aromas of grape, strawberry and pomegranate making up a quite interesting ensemble. Light mouth with balanced flavours and medium duration aftertaste. It is a simple rosé from Grenache grapes.

 

Rating: