Domaine Hadjiantonas
---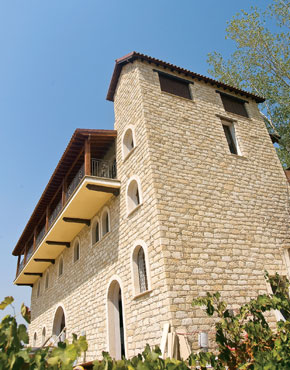 Doros Hadjiantonas has been working for twenty years as an Airbus captain for Cyprus Airways. His pastime interest in wine was originally kindled through drinking wine for pleasure. During his numerous travels he had the opportunity to taste a large variety of wines from all parts of the world and get first-hand experience of the beautiful world of wine.
It is not therefore surprising that he was soon enchanted with the idea of actually producing wine himself. Although he comes from Parekklisia, a village only a few kilometres from Lemesos which cannot really boast a wine-producing tradition, he took the plunge and set up his own winery in his birthplace.
He experimented once or twice with small-scale wine production and it did not take him long to come out in2004, formally and dynamically, with a notable range of wines. His Shiraz instantly became the flagship of the winery, and it was followed by another red wine from the Cabernet Sauvignon and Shiraz grape varieties in a 50-50 blend. Both are typical New World wines featuring intense wood aromas and abundance of alcohol. The wine-producer's white label – a Chardonnay – caused sensation with its appearance on the Cyprus market for its quality classified it among the top 4 or 5 white wines.
The producer's imagination did not stop at the Chardonnay but went further with the release of a semi-sparkling sweet Muscat which captivated many female drinkers! The semi-sweet Organic Sultana in 500ml bottles was the producer's next step and it again created sensation among wine lovers as well as among supporters of organically produced foods and drinks. The producer has been criticized for the high prices of his wines – in fact the highest in Cyprus. But he himself justifies these high prices on the ground that they reflect the high quality of the wine and the high production costs of a small-scale winery. Unerring time will ultimately show which of the two views is correct. In the meantime, let us be open to either eventuality.
Best Wine
---
Chardonnay

 

Transparent, light yellow colour. Medium intensity nose with rather simple structured but pleasant, fruity aromas reminiscent of peach, apricot and citrus fruit undertones. Light and aromatic mouth with very good flavour balance (thanks to its lively acidity) and quite long aftertaste. Very good in its varietal category. One of the top two Chardonnays in Cyprus.

 

Rating: 
Recommended Wines
---
Semi-sparkling sweet

 

The winery's semi-sparkling sweet is a very pleasant wine to finish off a meal. Light yellow in colour, and joyously expressive aromatically – pear and peach compote, lychee, rose and grapefruit rind undertones. Discernibly carbonated (fizzy), the wine has a fresh palate, is sweet and aromatic and leaves a long aftertaste.

 

Rating: 
Shiraz 2006

 

Dark red colour, well-balanced nose combining discernible morello and blackberry fruit (which is obviously more abundant than in the Cabernet-Shiraz) with vanilla and toasted oak. Full flavour body in the mouth, intensely discernible tannins and balanced acidity. Medium length and medium intensity aftertaste.

 

Rating: 
Cabernet-Shiraz 2005

 

Good intensity red colour with light rust coloured shades on the edges. The nose features a more intense Cabernet Sauvignon presence, with obvious aromatic characteristics of a wine produced in a hot, dry climate. Very good body in the mouth, discernible tannins, rather highlighted acidity and medium length aftertaste.

 

Rating: