Yiaskouris
---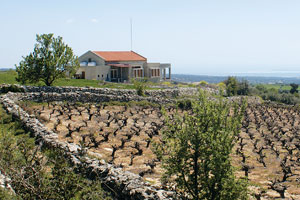 The Yiaskouris brothers, Christos and Doros, are the mainstay of the winery that bears their family name. The two brothers, together with Georgia, Christos's wife, who has a postgraduate degree in Chemistry, make up a dynamic trio, with Christos, a US university graduate in Electrical Engineering, faultlessly operating the mechanical and electrical equipment, and Doros, also a US university graduate in Business Management, looking after the economics of the business. Apart from owning one of the island's perfectly equipped wineries, which boasts a vacuum press, stainless steel vats, underground cellars etc., the Yiaskouris brothers have one of the largest vineyards owned by small regional wineries.
This gives them a significant advantage. It is well known among people who are systematically involved in matters of Cyprus wine that the Yiaskouris brothers are among those few who, right from the start, realised that, unless a winery had its own vineyards, it would be impossible to produce high quality wine that would not vary – significantly – from year to year. It is not surprising that the Yiaskouris brothers, though they have expanded their ownership of vineyards, are still striving to grow more vine-plants in the Pahna region, while other wineproducers (and they are not few) labour under the delusion that one day they will make some great wine from grapes of unknown and unspecified origin, bought from all over the place!
The Yiaskouris brothers and Vlassides are the first Cypriot winemakers who gave serious attention to Shiraz, making the variety known to the wider public and revealing the immense potential of this multidynamic grape which has adapted beautifully to the xerothermic climate of the island.
Best Wine
---
Yiaskouris white

 

Over the last three or four years the Yiaskouris white has been among the best five or six Xynisteris in the island. With a fresh and clear nose, it immediately impresses you with its fruity aromas, mainly green apple, citrus, peach and lime. Lively mouth, with crisp acidity and lemony aftertaste.

 

Rating: 
Recommended Wines
---
Yiaskouris rosé

 

Pomegranate colour, rather low intensity, and a nose of clear simplestructured strawberry and pomegranate aromas. Light, balanced mouth with vivid acidity and satisfactory aftertaste. This rosé wine, intended for shortterm consumption, is well vinified and is good value for money. Ideal for the summer period as an aperitif, and as accompaniment for fruit but also for tomato-sauce pasta.

 

Rating: 
Shiraz 2006

 

The 2006 Shiraz has a dark, still young colour, a pleasant nose with a combination of fruit and herbal aromas plus hints of certain heavier smells. I found the mouth more to my liking than the nose, for the wine has good body, comparatively soft tannins and also mild and well-balanced acidity. Medium-term ageing potential.

 

Rating: