Vouni Panayias
---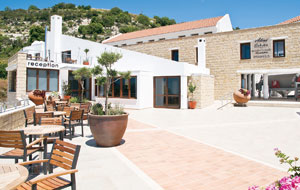 Andreas Kyriakides's winery at Vouni Panayias is, today, the largest of the small wineries of Cyprus, after the winemaking complexes of Malia, Olympus and Kamanterena which belong to the wine industries of KEO, ETKO and SODAP respectively.
Andreas Kyriakides worked in the Department of Viticulture and Oenology for 14 years as production assistant but also spent time in the laboratory and in field work, thus acquiring valuable experience, which pushed him into setting up his own regional winery in 1987, and turning out 10000 bottles of wine in the first year. Now, the output is almost 400000 bottles per year.
What impresses the visitor today are the winery's new premises, a building combining the local stone with the brilliance of the island's white, the ochre colour, the tiled roof and the wooden windows. The new complex of buildings, covering an area of 3800 square metres and rising on three levels, involved an overall investment of about three million euros. The ground level houses the wine cellar with the barrels and bottles, the bottling section, and an area for the production of traditional grape juice sweets (palouzes, kiofteria, soutzioukos etc.) and the production of a limited quantity of zivania. On the first floor is the reception, the tasting area, a large sitting room that can accommodate one hundred people, a restaurant, the grape delivery area and the vinification section. The second floor houses the offices, a chemical laboratory, a display area where photographs of a viticultural/vinicultural nature are exhibited, as well as a projections room. In the summer the restaurant functions outdoors, in the open space next to the buildings.
Best Wine
---
Barba Yiannis Maratheftiko 2004

 

This mature Maratheftiko is one of the most interesting Maratheftiko wines produced on the island. Its medium intensity red colour has acquired a light rust-coloured shade that testifies to its maturity. Maturity is also obvious in its pleasant, quite complex nose, predominantly made up of herbs, grass, leather and wellplaced barrel aromas. In the mouth the wine displays very good body, quite softened tannins and balanced acidity.

 

Rating: 
Recommended Wines
---
Pampela

 

Produced from the local Mavro and Maratheftiko red grape varieties, this attractive, pomegranate colour rosé wine is ideal for consumption in the hot and dry Cyprus summer. It features a pleasant, simple nose of strawberry, cherry, rose and tomato aromas, and a light, refreshingly disposed, simple mouth.

 

Rating: 
Alina dry

 

I tasted this wine a full year after harvesting and I cannot but admit that it is the first time I have found it to be in such good condition. Light yellow colour, simple but pleasant peach and citrus fruit aromas, and light, balanced taste. A simple, easydrinking wine for everyday meals.

 

Rating: 
Plakota

 

When young (1-2 years), this wine is one of the most suitable Cyprus reds for summer consumption. It lacks complexity and body but it is aromatically simple and pleasant (cherry), with a very light, soft palate, and is easy-drinking – no more, no less.

 

Rating: