Vasilikon
---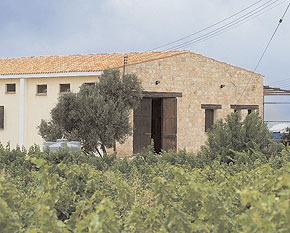 The Vasilikon winery, owned by the Kyriakides brothers, is one of the first local wineries of Cyprus. It operated in a serious and absolutely responsible way and its example was followed by two or three other wineries. Those who are fair-minded and objective will admit that Vasilikon is the only winery in Cyprus that, since its establishment, has been concentrating its efforts on only two wines which continue to be reference points in their category. Both the white "Vasilikon" and the red "Ayios Onoufrios" have been among the top wine labels over the last eight years, as wines for everyday consumption and are, at the same time, good value for money.
It is worth mentioning that, although many of the local wineries on the island have chosen an obviously different approach on the issue of their production range and in some cases produce up to 15 different labels, claiming that this practice facilitates sales since it satisfies all tastes, paradoxically enough, the commercially most successful winery continues to be Vasilikon, for the output of any particular vintage all runs out before the next one comes on the market.
After nearly two decades of hard work, the time has come for the construction of a new production unit which is now in the final stages of completion. The 2009 harvest will be taken care of in the new premises which cover a total area of 4000 square metres – built on three levels. The basement, naturally, is utilized as the wine cellar – for both barrels and bottles. The ground floor is all used for vinification purposes and the first floor houses a wine museum, a tasting section, a lecture room and offices. Here we have a modern building with all the facilities and technology needed by a winery whose target is quality.
Best Wine
---
Methy 2003

 

The 2003 Methy is even better than that of 2001 which was still on the market till recently. It has a dense, intense nose with balance between oak barrel aromas (vanilla, toasted wood) and those of fruit and spices. In the mouth the wine is full and dense, with sturdy tannins and strong structure. Methy is one of the best four or five Cabernet Sauvignon vinified in Cyprus.

 

Rating: 
Recommended Wines
---
Ayios Onoufrios

 

Among red wines, Ayios Onoufrios has been the wine with the highest demand on the local market for several years; it has also been good value for money and a reliable choice for the average consumer. Vivid colour, simple but pleasing aromas (flowers, red fruits, grass), and smooth taste. It has balance and is easydrinking. It will continue to find it difficult to respond to increased demand as it is one of the best three or four red wines priced under 5 euros.

 

Rating: 
Vasilikon

 

Vasilikon was the first white wine that brought the Xynisteri grape out of obscurity. Commercially it has been the most successful Xynisteri wine on the island, even though it now has to compete with several wines made from the same grape variety. It is well vinified, it is aromatically simple and clear (peach, apple), it has a light taste and is good value for money as a wine for everyday use.

 

Rating: