Tsangarides
---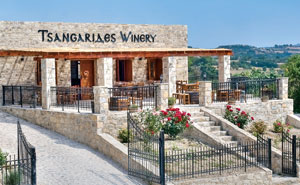 Thanks to young Angelos Tsangarides and his sister Loukia, the small village of Lemona can now boast its own winery, set up in 2005. Though the academic training of both brother and sister has nothing to do with vineyards or wine – they both studied Business Management – they were "fated" to involve themselves in viticulture and winemaking.
The indelible experiences of their childhood, acquired during the annual grape harvesting and winemaking in their home village, had a more catalytic effect on their choice of a career than their academic training alone. So they did not embark on a business management career in the open market but decided to lay the foundation stone of a family winery – the Tsangarides Winery. Angelos and Loukia's father, Chrysostomos, a vine-grower for many years, had obviously imparted to his children the love for vineyard and wine, and they are now enriching the family vineyard with new multi-dynamic varieties of wine grape.
The winery's products attracted the attention of wine-lovers on their first appearance on the local market. Most impressive was the single-variety Mataro, a dark red wine with a full nose and mouth, produced exclusively from grapes from the family vineyard. Alongside the Mataro posed respectably a very good Cabernet Sauvignon which has been improving from year to year. The average-size production unit of the winery is situated on the road from Lemona to Amargeti. It has been carefully constructed to be functional and is mostly made of stone and wood. There is a special room where visitors can taste the winery's products, and the owner himself will take you round to see where the wine is made and where it is aged. The winery was planned to support the production of 100000 bottles of wine annually – the maximum that the owner wishes to produce.
Best Wine
---
Tsangarides rosé

 

Beautiful rose colour. Attractive nose of intense wild strawberry, rose and cherry aromas. Rich mouth (for a rosι wine), aromatic, with exuberant acidity imparting nerve and freshness to the wine, and aftertaste of good length. A very good rosé wine that indisputably proves the potential of the Cyprus vineyard for the production of excellent wines of this unappreciated category.

 

Rating: 
Recommended Wines
---
Cabernet Sauvignon 2007

 

Good density red colour; medium intensity nose of well balanced aromas: sufficient fruit presence, spices, grass and oak barrel; medium body, balanced acidity, somewhat highlighted tannins and medium length aftertaste. A well produced Cabernet Sauvignon that will continue to improve in the bottle until 2011.

 

Rating: 
Ayios Efrem

 

This is the winery's basic red wine, a blend of the French varieties Mataro, Shiraz and Cabernet Sauvignon. Good intensity red colour, simple-structured nose with mainly red flower and red fruit aromas, and a light mouth with balanced acidity but quite intense tannins as well. A simple lowpriced wine intended for consumption while still young.

 

Rating: 
Tsangarides white dry

 

The 5% Muscat of Alexandria that is blended to the Xynisteri makes a most discernible difference in this wine! The typical flowery aromas of the Muscat that combine with the smell of exotic fruits alter the pure Xynisteri characteristics. A light mouth. The wine has matured earlier than a pure Xynisteri would have done.

 

Rating: