Kolios
---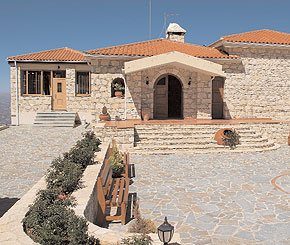 If there is a winery in Paphos district that has been built with respect for the tradition of the region, it is no other than the winery of Marios Kolios in the village of Statos-Ayios Fotios. Beautifully built out of local stone, this imposing winery invitingly comes into view as you drive round a wide bend on the road that leads to the Holy Monastery of Chrysorroyiatissa and the village of Panayia.
The owner of this wine-producing complex is not a widely-travelled person nor particularly experienced in winemaking or in the wine business. He will grudgingly go to town unless it is absolutely necessary. He is a typical countryside man who loves nature and the peace and quiet of his village. He has not visited many wineries nor has he been to numerous wine-cellars in foreign countries. Yet he appears to have a natural tendency towards what is traditional, clean and beautiful. This is evidenced by what he has done in his village Statos which boasts the only winery in the island which offers a complete range of services – beginning with the production of quality wine, extending to the running of a very good restaurant serving delicious food, with a beautiful, open view, and also including a retail shop where you can buy (besides wine) glasses, corkscrews, books and other interesting wine accessories.
The range of wines produced by Kolios Winery is among the best half a dozen on the market, made up of nine very interesting labels. The overall production exceeds 290000 bottles, which makes the winery the second largest among the regional wineries – not counting, of course, Olympus, Kamanterena and Ktima KEO which belong to the wine industries of ETKO, SODAP and KEO, respectively. Wines bearing the Kolios label have met with wide approval on the part of the public, considering the size of the Cyprus wine market, and there is every indication that this will continue. I take my hat off to Marios Kolios for his love for what he is doing, and also because he is striving incessantly to do even better. The ailing Cypriot countryside, in the face of impending abandonment and desolation approaching more and more menacingly, seems to be at its last gasp – and what it needs is people like Marios Kolios.
Best Wine
---
Persefoni dry

 

Persefoni and Petritis are the best Xynisteri wines on the island. In the last four or five years Persefoni has been a point of reference for this grape variety. Fresh, impressively fruity and flowery, it brims with the aromas of whiteflesh fruits and white flowers, especially jasmine. Though light in taste, it bursts with fruit aromas, vibrant acidity, perfect balance and long, persistent aftertaste. It is an exceptional wine and exceptionally good value for money.

 

Rating: 
Recommended Wines
---
Shiraz 2002

 

The 2002 Shiraz looks very young in the glass. The nose manages to retain the still vibrant fruit that combines with spices, chocolate and barrel aromas. In the mouth it has very good body, with equally good fruit and exceptional balance highlighted by the wine's round, ripe tannins. The Shiraz 2002 is one of the best five local red wines.

 

Rating: 
Cabernet Sauvignon 2002

 

Dark red, young-looking wine. The nose betrays the typical aromas of a Cyprus wine made from this variety – capers, green pepper, dry grass, red fruits. In the mouth, one appreciates the wine's good body and the suppleness and balance of its flavours. It is one of the best and most supple four or five Cabernet Sauvignon wines in Cyprus.

 

Rating: 
Ayios Fotios

 

If I were to name two or three cheap red wines for everyday use, Ayios Fotios would certainly be one of them. Its red colour is of good intensity, it has very good fruit – considering the island's xerothermic climate – and a balanced taste of satisfactory density that retains the fruity flavours.

 

Rating: