Gaia Oinotechniki
---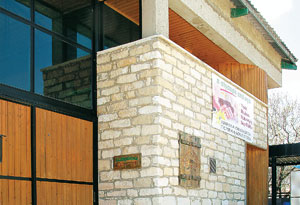 The Ayios Amvrosios Gaia Oinotechniki is the most "ecological" winery on the island, mainly for two reasons. First, it has been producing wines based on organic cultivation and certified by the international organization "Lacon". The rose Oenanthi, the red Kylix and the white Mirsini are made from organically grown grapes every year. 
The second factor that contributed to the ecological nature of the winery are the wider social activities of the owner, Mrs Ioanna Panayiotou, who happens to be the General Secretary of the Cyprus Green Party, a party with a forceful voice and a presence in parliament.
Born in Lemesos, Ioanna Panayiotou took the decision, in 1986, to leave behind the pollution of the city and settle in her village. The next year saw the first experimental production of wine, and in the year after that the half completed winery began to rise above the clear horizon of Ayios Amvrosios. "Our accession to the European Union has forced us to put our house in order," says the winemaker meaningfully. "Every vinegrowing region must invest in the grape varieties and wines for which it is best suited," she says, and points out that Ayios Amvrosios stands out in the making of red wines, especially from the Syrah, Cabernet Sauvignon and Grenache varieties of organic cultivation.
Best Wine
---
Ambelidha

 

This popular wine is a classic example of Xynisteri wine. Whitish yellow transparent colour. Simple, typical and medium intensity nose dominated by green apple, lemon and citrus fruit aromas. Light, lemony and refreshing mouth with satisfactory length aftertaste. An everyday use wine for short term consumption. Good value for money.

 

Rating: 
Recommended Wines
---
Oenanthi

 

Vinified from organically grown grapes of the Grenache variety, Oenanthi exhibits a beautiful pomegranate colour in the wine glass. Simple, pleasing, singular nose; light, refreshing, lemony taste (thanks to its exuberant acidity) and satisfactory length aftertaste. Good value for money.

 

Rating: 
Agravani

 

This is a multi-varietal wine – a blend of four grape varieties: Grenache, Mavro, Cabernet Sauvignon and Shiraz. Good density red colour; rather simple structured nose dominated by red fruit, pepper and grass aromas; the mouth features good body, satisfactory fruit, discernible tannins and acidity, and medium length aftertaste. This red wine must be drunk within two or three years from production.

 

Rating: