Ezousa
---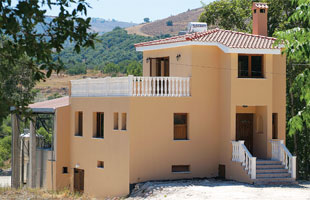 Michalis Constantinides is a young man of 35 who studied Chemical Engineering at Athens Polytechnic, with specialization in Foods and Drinks and the Environment, and then did postgraduate work in Business Administration. He will certainly need all these qualifications at his new job: he decided to set up business as a winemaker in the shrinking village of Kannaviou – another victim of urbanization.
The environmental aspect of his studies will also prove useful for behind the building that houses his winery is the Ezousa river whose flow is in danger due to the completion of a near-by dam, the Ezousa dam, built by the state's agricultural authorities. The young man's ambitions are wine-related: he hopes to increase his four hectares of vineyards to over ten so as to be almost self-sufficient in grape production; he hopes to treble his production of wine, now standing at 52 thousand bottles a year; and he hopes that eventually he will only need to buy grapes from 2 or 3 specific growers, as a permanent arrangement, rather than rely on random sources, which entails a number of risks.
Michalis Constantinides's winery at Kannaviou is yet another link in the really long chain of Cypriot wine-producers – a chain that gets longer year by year as new players join the wine poker that is currently being played on the island. Let's deal the cards then and let the best players win!
Best Wine
---
Eros

 

This is a very interesting typical rosι wine made from the local Maratheftiko variety. Light pomegranate colour, nose of nice strawberry, rose, cherry and jasmine aromas; throbbing, aromatic mouth with lively acidity that counterbalances the few unfermented sugars in the wine, and aftertaste of satisfactory length. It is one of the top rosι wines produced on the island.

 

Rating: 
Recommended Wines
---
Ayios Chrysostomos dry

 

The Ezousa Xynisteri has improved considerably over the last two or three years. Like most Xynisteri wines, it is light yellow in colour. Fresh, clear and pleasing aromatically, it reminds you of ripe peach and pineapple. Peach is dominant in the mouth too where the wine is light and easy-drinking. Average length aftertaste.

 

Rating: 
Diomedes

 

Medium intensity red colour. Simple structured nose with medium intensity aromas reminiscent of red fruits, caramel and dry herbs. Rather light mouth, with discernible but not unduly harsh tannins, lively acidity and medium length aftertaste. It is an ordinary wine preferably to be drunk in the first year of its life.

 

Rating: