Domaine Nicolaides
---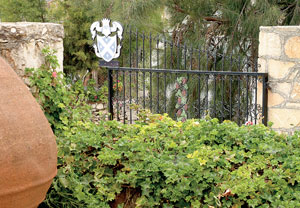 The existence of this small but now modern winery is wholly linked up with the land's tradition as well as with family tradition. The pioneer was Grandfather Nicholas, whose name adorns the label of the most expensive of the winery's products – Conte Nicholas – a wine where two select cosmopolitan grape varieties meet – Cabernet Sauvignon and Cabernet Franc.
In 1986 the baton is handed over to the second generation, Conte Nicholas's sons, Agathocles and Chrysanthos, who use their father's earthen jars, known as pitharia, to produce a mere 600 bottles of wine. Now, the youngest in the family, Nicos Nicolaides, who represents the third generation, has taken over and, equipped with the valuable knowledge which he acquired at the School of Viticulture and Oenology of Montpellier, is bent on upgrading the quality of the wine.
Admittedly, he has undertaken not an easy job. A lot needs to be done: new properly planted vineyards which will be host to new dynamic varieties, both indigenous and imported, a new approach, overall reorganization of the manner of operation, inspiration. All this will put the winery on the road envisaged by the young winemaker who is at the helm.
Best Wine
---
Aphrodino

 

Beautiful, inviting pomegranate colour, urging you to taste it. It has a pleasant nose with rose, strawberry and pomegranate aromas enveloped inside the wine's abundant alcohol (14%). For a rosι wine it has a rich mouth due to its generous alcohol content as well as its few unfermented sugars. One could actually sum up by saying that Cyprus's rosι and Xynisteri wines, along with Commandaria, of course, are, perhaps, the island's most interesting wines.

 

Rating: 
Recommended Wines
---
Conte Nicholas 2007

 

This is the winery's most expensive wine. The 2007 vintage has produced a dark red wine, with a nose of intense characteristics: plum liqueur, sweet spices – mostly cinnamon and clove – leather and touches of dry grass. In the mouth it has good flavour body, discernible tannins and highlighted acidity.

 

Rating: