Domaine Argyrides
---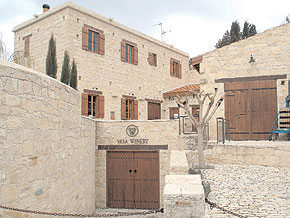 In the whole of Cyprus there is only one winery that was built with absolute respect to the tradition of the
region where it is situated. This is the Domaine Argyrides, owned by Pambos Argyrides, who constructed a small but model winery wholly from select local stone panelled with wood and featuring decorative doors and windows that bring to mind bygone times. The inspirer and creator of this doll-like "miniature" winery, whose total annual production does not exceed 30000 bottles, did not build this work of art in the heart of the village for the purpose of making money but to give an outlet to his passion for wine.
A successful businessman at the head of one of the most enviable companies on the island, which he had set up with two partners in 1985, two years before returning to Cyprus from South Africa where he had lived for years, Pambos Argyrides does not expect to make a living out of wine anyway. The fully restored old building that now houses the winery used to be the place where, for years, Pambos's father made his own wine. When the old man, ravaged by relentless time, had to gradually grind to a halt, Pambos, indulging his passion for wine, picked up the baton from the tired old veteran to continue the task and raise it to higher standards.
But before all this came about, before the Domaine Argyrides took its present flourishing shape and form, it so happened that the wine in one of the traditional big earthen jars that fulfilled the function of winemaking tanks, turned sour. This prompted the winemaker to find out why. Knowledge came to him in various ways: he attended courses on wine and winemaking, he enriched his library with specialist books on the subject, he talked to wine experts, and finally he travelled to Bordeaux, to Rioja (Spain) and to Napa Valley (California). "When I came back from these travels," Mr Argyrides confided to me in a friendly conversation, "having seen how far behind these people I was, I said to myself that I must either give up the whole project or try to get as close to their standards as I could." Opting for the second alternative, the winemaker does honour to his village which can pride itself on having the best premises housing a winery anywhere in Cyprus, where quality wines are produced that can easily claim to be included among the top five ranges of wine in the country.
Best Wine
---
Maratheftiko 2007

 

The producer's Maratheftiko 2007 is, aromatically, perhaps the most interesting red wine produced on the island. Its flowery and at the same time fruity aromas, duly enveloped within wellchosen oak cannot but be appreciated, if for no other reason, at least for their authenticity. In terms of taste, the wine continues to be very interesting, and if the producer manages to restrain the highlighted acidity and the rather intense tannins, he will probably be in a position to bring out, some time in the future, the island's first great wine. 

 

Rating: 
Recommended Wines
---
Saint Timon

 

The 2005 and 2006 Saint Timon are two of the best wines that Pambos Argyrides has produced so far. Compared to all previous vintages that I have tasted, they are distinctly more concentrated and more complex, both in terms of aroma as well as taste. Their tannins also are more round and their acidity a little more under control.

 

Rating:  (2005-2006)
Cabernet Sauvignon 2005

 

Over the last few years, Domaine Argyrides's Cabernet Sauvignon has been among the top Cabernet Sauvignon produced on the island. It is a concentrated wine from every point of view: dark red colour; rich and complex aromas, full mouth, with intense tannins, good acidity and well-placed barrel.

 

Rating: 
Mourvédre 2007

 

The winery's first Mourvθdre cannot pass unnoticed: dense, dark red colour, concentrated and intense virile aromas of leather, farm, pepper, and red fruits in a background of vanilla and oak. The mouth features very good body, promising quality tannins, abundant alcohol and rather highlighted acidity. A very good first attempt. 

 

Rating: