Aes Ambelis
---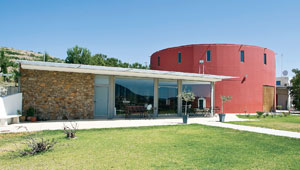 The Aes Ambelis winery, the nearest to Nicosia, only 30 kilometres from the centre of the capital, is a modern functional building that stands out, on your right, on the road to Palehori – one of the largest mountain villages of the island. Its structure was well planned so as to satisfy the needs of a modern, dynamic and ambitious winery. It rises on two levels, thus making good use of gravity in the process of transferring the must to the wine tanks without messing it up with the use of pumps. The circular shape of the actual winemaking section of the building obviously allows the winemaker to have full control over the stainless steel tanks during the critical phases of extraction and fermentation. The winery has a consultant oenologist from Greece who comes over at specific times during the year, both at the critical periods of harvesting and vinification and also during all the other processes down to bottling. The vineyard all round the winery is expanding year by year so that it can cover the needs of the greatest part, if not the whole, of the targeted wine production.
Apart from the privately-owned vineyard all around the winery, there is also an expanse of vineyard
land at Farmakas village which was recently bought by Mr George Tripatsas, the winery's owner. Although the privately-owned vineyard is gradually being expanded, the producer is also cooperating with specific vinegrowers in Lemesos and Paphos districts whom he advises as to vine-tending techniques as well as the timing and manner of harvesting.
Best Wine
---
Aes Ambelis rosé

 

It is not only the wine's beautiful colour that will impress you; it is also its attractive, vivid aromas (cherry, rose, strawberry) and its rich, fruity and aromatically long taste, marked with certain elusive touches of sweetness. It is a very good rosé wine, ideal in the hot Cyprus summer. Drinking it with Chinese dishes will be a worthwhile experience.

 

Rating: 
Recommended Wines
---
Aes Ambelis white

 

In the last few years the winery's white has been one of the best wines in its price range. It has a fresh, fruity and pleasant nose of simplestructured citrus, grapefruit and lime aromas. It is light, refreshing and ellbalanced in the mouth. It is good value for money and a safe choice not only for everyday meals but also for other occasions.

 

Rating: 
Cabernet Sauvignon 2006

 

A red wine of good colour intensity, with a strong nose dominated by barrel aromas, with touches of spices, capers and pepper, and a mouth of good flavour density, balanced acidity and apparent tannins that are not particularly offensive. It is a typical Cyprus Cabernet Sauvignon that clearly betrays the fact that it is vinified in a hot and dry climate.

 

Rating: 
Aes Ambelis red

 

The Cabernet Sauvignon, Grenache and Mataro varieties give a simple red wine for everyday consumption. The nose is dominated by virile aromas of green pepper, capers, grass and wood. A medium-bodied mouth with balanced acidity and rather intense tannins – for this type of wine – which, however, are short of being offensive.

 

Rating: